Religious leaders in Tanzania have urged state organizations to ensure that all political parties and other stakeholder observe justice and peace during the upcoming General Election which is scheduled for October 28, 2020.
The call was made on Tuesday August 11, 2020 in Dar es Salaam during the religious leaders meeting under the umbrella of Interfaith Tanzania where they discussed rights and community participation in the 2020 General Election.
Interfaith Tanzania is made of Tanzania Episcopal Conference (TEC), the National Muslim Interfaith Standing Committee Council of Tanzania and the Christian Council of Tanzania.
Interfaith Standing Committee on justice, peace and integrity of creation in Tanzania coordinated the meeting.
Sheikh Khamis Mataka the co- chairman of Interfaith Tanzania said religious leaders are ambassadors of peace and justice in society. Therefore, the meeting aimed at discussing the role of religious institutions in the general election to ensure free, fair and credible election.
ÔÇ£We know that the country has a National Electoral Commission which facilitates all election processes but religious leaders have the role of ensuring peace before, during and after election,ÔÇØ he said adding, ÔÇ£The National Electoral Commission, security organs and religious leaders are major stakeholders to ensure that peace prevail in the country.ÔÇØ
At the meeting, Rt. Rev. Augustine Shao the Bishop of Zanzibar insisted that the right to vote and/ or be voted for must be respected. He warned of corruption among the candidates who contest for the presidential seat and members of parliament saying, ÔÇ£Corruption is an enemy of peace.ÔÇØ
ÔÇ£We want all voters and all political parties to build the nation for there is life after an election.  When somebody deserves to win and he loses because she/ he has no money to bribe voters, violence is likely to occur. Giving a bribe means buying the otherÔÇÖs right; receiving a bribe means selling your right,ÔÇØ he said.
He insisted all media houses in the country to cover campaign of all candidates from all political parties to give citizens the right of information.
He further said that voters need the right information so as to make the right decision on who they can vote for.
ÔÇ£Never allow politicians to bribe your media houses so that you give popularity to few candidates. If you accept that, you destroy the meaning of democracy and the right of each candidate to express himself or herself, to be listened to, to be voted for. Observe media ethics,ÔÇØ Bishop Shao insisted.
Bishop Shao, argued that snubbing votersÔÇÖ registration exercises could be another source of peace breaching as some people might have selected their people mentally but never voted for them.
He recalled that in the 1995 general election, many youths did not show up for registration but got involved in riots after leaders of their choice failed to win.
ÔÇ£This is our noble task: to remind our followers to show up for registration and voting exercises. We should also educate them to respect and accept the results that are declared by relevant authorities,ÔÇØ said the bishop.
On his part, Bishop Frederick Shoo head of the Evangelical Lutheran Church in Tanzania appreciated the Electoral Commission for accepting to change the election day to be on Wednesday instead of Sunday as it has been experienced from previous general elections.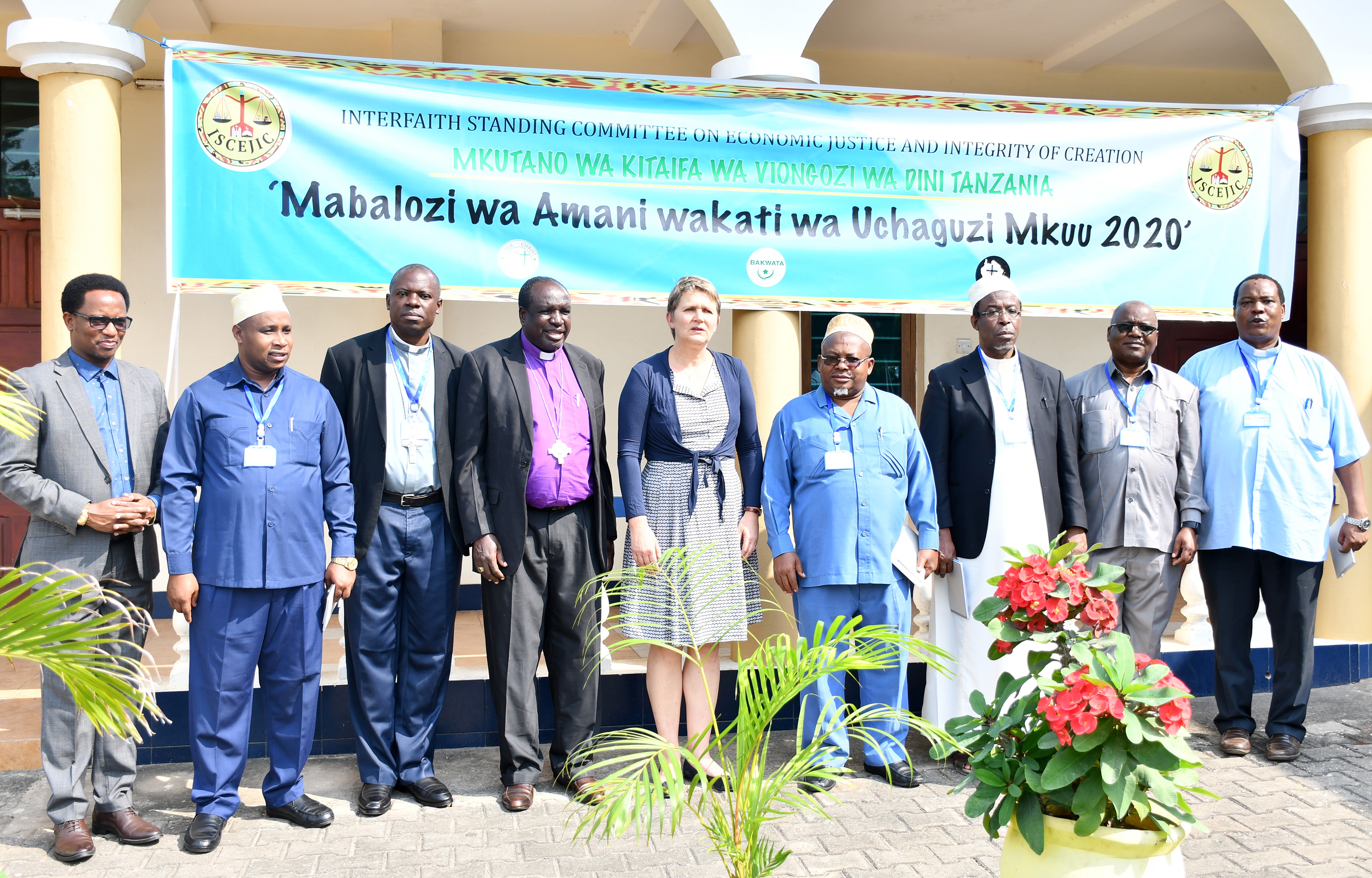 ÔÇ£The decision to change the voting day from Sunday arose from a request by religious bodies. Sunday was not a better day because most Christians preferred to go to church instead of going to vote. Wednesday is a better day free for all to participate in election,ÔÇØ he said.
He also insisted that the Electoral Commission must treat all political parties equally while respecting the electoral procedures, rule and regulations.
Bishop Frederick Shoo also emphasized that religious leaders must neither show biasness to any political party nor a candidate. Their role is to be mediators among voters, security agencies and electoral commission.
ÔÇ£Religious leaders must educate their followers on the importance of voting during election and educate them about their role and responsibility. Peace, justice, fairness must be a song of each religious leaders among their faithful during elections,ÔÇØ he said.
On October 28, this year, Tanzania will hold its sixth general election since the reintroduction of multiparty system in the country in 1992. The first general election under multiparty politics was conducted in 1995.
The October polls will enable Tanzanians to elect the president, members of parliament and councilors. Currently, most of the registered political parties are finalizing their primary elections.
The meeting was graced by diplomatic presence of the Ambassador of the Federal Republic of Germany to Tanzania, Mrs. Regine Hess and Paulina Parhiala a Norwegian Church Aid TanzaniaÔÇÖs country Director.